Kings Meadow's Continuous Curriculum
At Kings Meadow School we meet both the social and emotional and academic needs of each individual child through a Continuous Curriculum approach to teaching and learning. Through this approach academic learning and personal development are valued equally and continually interwoven within a whole school ethos of 'Believe and Achieve'.
So in practice, and as the above model reflects, this means that within each classroom, an observer will see children moving between focused adult-led learning activities and independent play-based learning opportunities such as role play, small world, sensory and junk modelling.
Our overarching Continuous Curriculum approach incorporates 4 key curriculum areas:-
Social and Emotional Curriculum
Through daily taught circle time sessions, interventions, assemblies and whole school practise, the pupils encounter frequent learning opportunities in order to develop their social and emotional skills. (See behaviour policy for more detail).
English
Our cycle of teaching and learning in English follows the Talk for Writing approach:-
Learn a set text – oral rehearsal
Adapt the learnt text – text mapping
Write your version of the text type – Big write
In line with the Talk for Writing principles, we also place great importance on the pupils' exposure to a range of books which is achieved through daily story time, book talk displays, weekly story-based assemblies and 1:1 reading.
Alongside this the pupils also engage in 1:1 sessions of phonics (based on Letters and Sounds), which focusses on the development of sound recognition, and Kinetic Letters which addresses the basic principles of pencil grip, position and letter formation. In addition Spoken Language is considered of paramount importance and so we provide a wide range of contexts for spoken language rehearsal and development throughout the school day such as:-
Oral story-telling
Lego therapy
Book Talk
Use of Blank questioning*
(See the English Policy for more detail).
Mathematics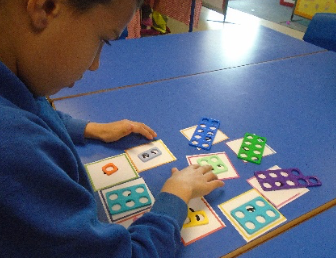 We place great importance on Mathematics teaching and learning following a clear learning journey where subsequent lessons directly build on prior learning and adhere to each individuals' next steps. As such planning outlines the small steps needed in order for each pupil to progress from their differing starting points.
Teaching and learning in Maths also places great importance on the use of resources, especially Numicon in order to support and deepen pupils' understanding.
We also build in frequent problem solving lessons and opportunities in order for the pupils to apply their learning to the real world and experience maths in different contexts. (See the Mathematics Policy for more detail).
Wider Curriculum
In relation to the overarching theme, teaching and learning is planned across the wider curriculum so that within every big term, pupils will have gained skills, knowledge and understanding within each of these subject areas.
Furthermore pupils have frequent opportunities to gain from new experiences through Forest School, PE events, theme days, visits and visitors.
To discover more about our themes and curriculum content for this year, click on the link for the Long Term Map.
Here are some of the comments shared by Mr. Hugh Williams (Vice chair of the Governing Body) who came to see the Continuous Provision in action in March 2018.
"There was an absence of pressure on pupils …this benefitted confidence and self-esteem."

"The phrase "managed freedom" came to mind as I observed pupils go from activity to activity."

"There was a clear structure which in itself allowed for elements of control by both adults and children and therefore fostering plenty of independence amongst the children."

"This is different from past approaches at Kings Meadow. It is proving to be beneficial in order to develop the whole child."
We strongly recommend coming to take a look at our Continuous Curriculum in action.